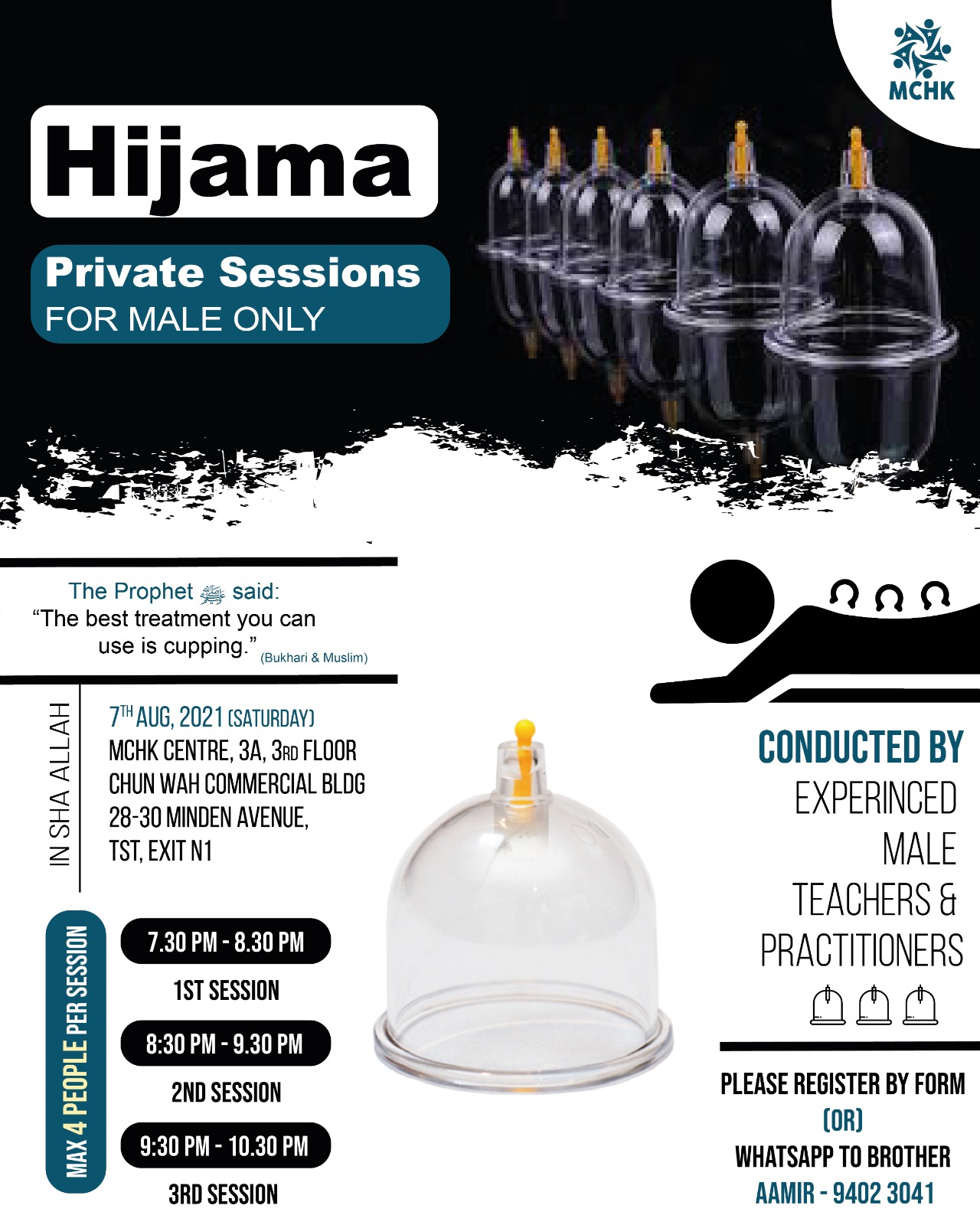 ✊ We are once again excited to conduct another wet #cupping group sessions in shā Allāh.
📲 To register, please fill this form - https://bit.ly/MCHKHijama0821
🤝 Muslim Council of Hong Kong brings to the brothers private group treatment opportunity where our brothers can get hijama done in a safe environment.
🕋 There are a number of ahadeeth talking about this practice, one is when Prophet Muhammad (peace be upon him) said:
❝I did not pass by any group on the night when I was taken on the Night Journey (Isra'), but they said to me, 'O Muhammad, tell your ummah to do cupping.'❞ [Sunan Ibn Majah]
📋 Workshop Full Details
🔹 Date: 7th August, 2021 (Saturday)
🔹 Location: MCHK Centre, Flat 3A, 3rd floor Chun Wah Commercial Building, 28-30 Minden Avenue, Tsim Sha Tsui
🔹 3 Time Slots with 4 people max each: 7.30-8.30pm, 8.30pm-9.30pm & 9.30pm-10.30pm
🔹 Language: English
📲 To register, please fill this form - https://bit.ly/MCHKHijama0821
For inquiries WhatsApp brother ‭Aamir +852 9402 3041
⭕️ PLEASE NOTE:
🔸 Make sure you are in good health
🔸 Bring your Hijama equipment set if you have the complete set from previous session(s)
🔸 If you don't have a Hijama set, then you must buy a complete Hijama equipment set from the MCHK centre for HK$250, which you keep and can reused again in shā Allāh.
🔸 For a treatment session, it will be first register first treated basis. HK$150 for treatment
🔸 So for hijama equipment and private session, the total cost is HK$400 per person.
🔸 Take shower before coming
🔸 Check with doctor or a medical expert if you have any medical condition that may cause adverse reactions from this treatment.
🔹 MCHK does not encourage anyone to do this treatment by themselves at home or elsewhere without enough learning and professional training.