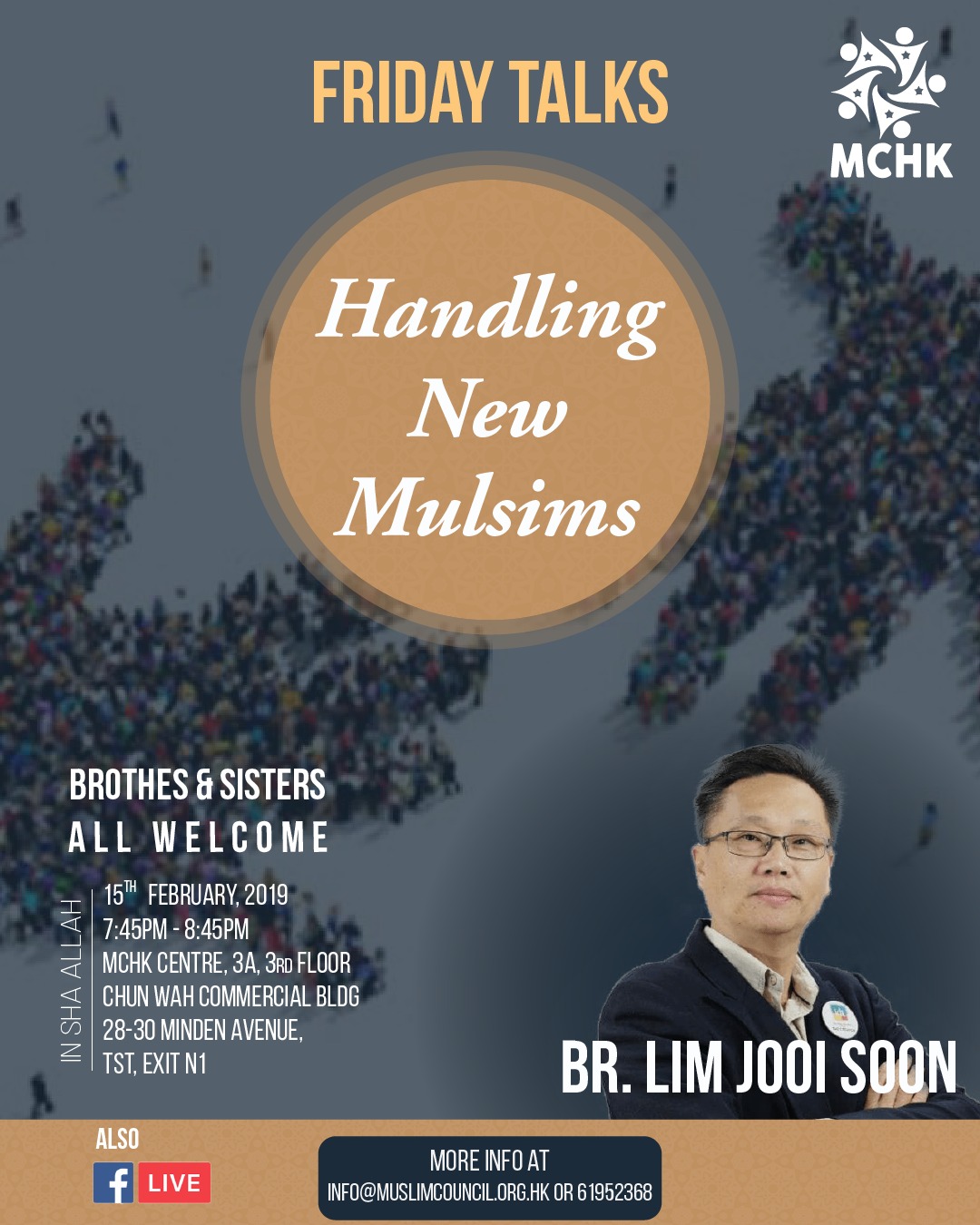 From 19:45 until 20:45
Handling & Caring For New Muslims | Br Lim Jooi Soon
💞 More and more people are embracing Islam, but how best should they be catered for? What are the duties of the Muslim community in this regard? Why is it some of the New Muslims don't really feel part of the Ummah?
🗣 Muslim Council of Hong Kong humbly invites you all, men and women, Muslims and non-Muslims, to attend this informative and vital talk on a topic which isn't addressed enough.
👤 We are grateful to have brother Lim from Malaysia with us for this talk and other workshops to follow. Here's a brief background on brother Lim
• Founder & President |
Interactive Dakwah Training (IDT - Malaysia)
• Over 20 years experience in Dawah
• Recipient of several awards from Malaysian government and institutions for contribution towards Islam
• Chinese - Reverted to Islam in 1996
• Excel in Comparative Religion and Bible Studies
• International Speaker & Trainer
🕋 Prophet Muhammad (peace be upon him) said:
❝Whoever wishes to be saved from Hell and admitted into Paradise as desired, they should believe in Allah and the Last Day and treat other people the way they themselves would like to be treated.❞
[Muslim]
✋ So why not join this class to be in the gathering of the angels and increase your #knowledge about Allah's religion.
📋 Details in shā Allāh:
🔹 Date: 15-02-2018 (Friday)
🔹 Time: 7.45-8.45pm
🔹 Language: English
🔹 Venue: MCHK Centre, 3A, 3rd Floor Chun Wah Commercial Building, 28-30 Minden Avenue, Tsim Sha Tsui (MTR EXIT N4 or P3)
🔸 Talk will be shown live on MCHK Facebook page and uploaded on YouTube channel later in shā Allāh
🔸 Brothers and sisters all welcome for free
🔸 Light refreshments provided
🔸 For more info, please whatsapp brother Adeel on +852 6848 5966 or e-mail info@muslimcouncil.org.hk
Attend | Share | Duas