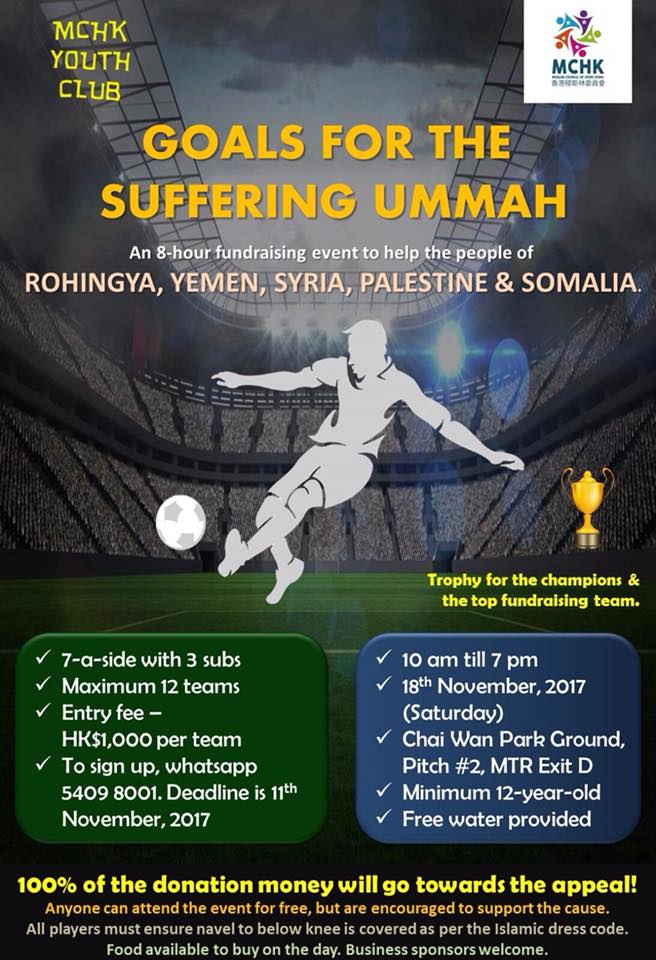 Goals For The Suffering Ummah
Muslim Council of Hong Kong
😁 Alhumdulilah! By the mercy of Allah, The Almighty, HK$100,000 has been raised so far! This has been achieved in just 20 days of fundraising!
✋️

 Muslim Council of Hong Kong arranged Hong Kong Muslims' first ever fundraising football tournament through which all the funds collected are being sent to help the people of Rohingya,Yemen, Syria, Palestine and Somalia in shā Allāh. 



💌

 12 teams + 25 organisations run by Muslims + many individual Muslims have been absolutely brilliant and generous in raising these funds! Though there was a champion team in the football sense, everyone is a winner in the noble cause sense! 



✊️

 We will equally divide the amount to the 5 suffering Muslim communities by contributing HK$20,000 to each with the winter coming.



👐

 May Allah accept from every single donor their charity and ease the suffering of the most blessed Ummah!
⚽️ An 8-hour fundraising football tournament to help the people of Rohingya, Yemen, Syria,Palestine and Somalia.

✊️ Muslim Council of Hong Kong with their Youth Club humbly, yet excitedly, announce the first ever football event in Hong Kong where all the money collected will be used towards helping some of the most oppressed and needy people worldwide.

✋️ We invite our youth and young adults to grab this chance to not only test their skills against each other in such a unique competition but also become part of an event which will be recorded as a good deed for them. 

*Tournament Details*

🔸 Date: 18th November, 2017 (Saturday) 
🔸 Time: 10am to 7pm
🔸 Location: Chai Wan Park Ground Pitch #2, MTR exit D
🔸 Total teams: 12 teams maximum
🔸 Total players per team: 10 players maximum with minimum age of 12-year-old
🔸 Entry fee: HK$1,000 per team (this can be divided between the 10 players if so desire)
🔸 Enrol your team: Contact Br Ehtsham on ‭5409 8001‬
🔸 Deadline for team entry: 11th November, 2017
🔸 Team task: From the point of entry till 11th November, 2017, the teams will need to fundraise as much as possible from their family, friends and other contacts
🔸 Business sponsors: Invite businesses to support the cause
🔸 Free water and first aid provided
🔸 Food available to buy
🔸 Everyone is invited for free to watch the tournament 

*Tournament Setup*

🔹 Group Stage: 4 groups with 3 teams each 
🔹 Quarter-Final Stage: Top 2 of each group 
🔹 Semi-Final Stage: The 4 winners from the QF stage
🔹 Final: The 2 winners from the SF stage
🔹 Champions: The final's winner & the top fundraising team 

*Tournament Rules*

🔺 All players are required to wear proper clothing which cover from navel to below knees as per the Islamic dress code.
🔺 All players and attendees are required to become MCHK members which is free.
🔺 All players and attendees are required to be at their best behaviour.