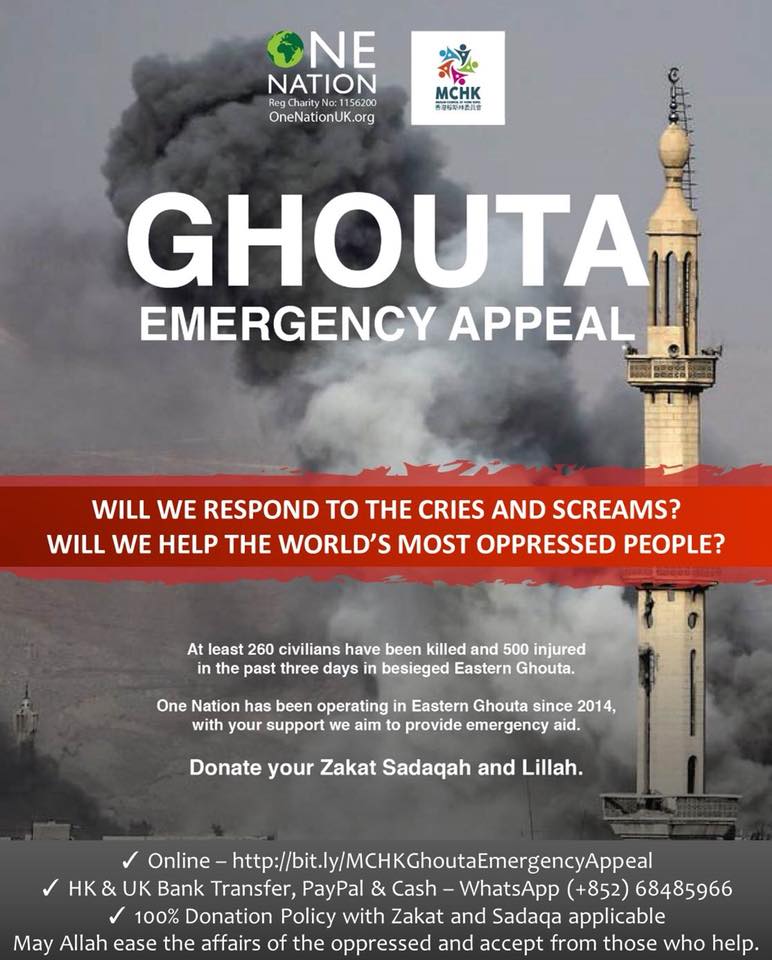 Ghouta, Syria Emergency Appeal
Muslim Council of Hong Kong
Alhumdulilah! In 10 days, we have managed to raise more than £10,000 (HK$110,000) for the people of  Ghouta!

Jazak'Allahum Khayr to every single donor and your reward is with Allah alone!
🚨 Over the last few days, the devastating news of our brothers and sisters, elders and children, innocent civilians being bombed has left hundreds dead and thousands injured.
🤝 Muslim Council of Hong Kong are yet again partnering with One Nation who have been aiding the people of Ghouta since 2014 and will continue to do so along with other charity organisations. 

✊ With your donations, we hope to aid those suffering with bread and other emergency aid which can be sourced and supplied to the needy. 

❝Whoever relieves the hardship of a believer in this world, Allah will relieve his hardship on the Day of Resurrection.❞ 

[Prophet Muhammad (peace be upon him) Sahih Muslim 2699]
🔺

 This is zakat and sadaqa jariya applicable! 



👐

 May Allah accept from all, protect the good deeds and ease the suffering of the needy around the world whilst making us the means of their ease.