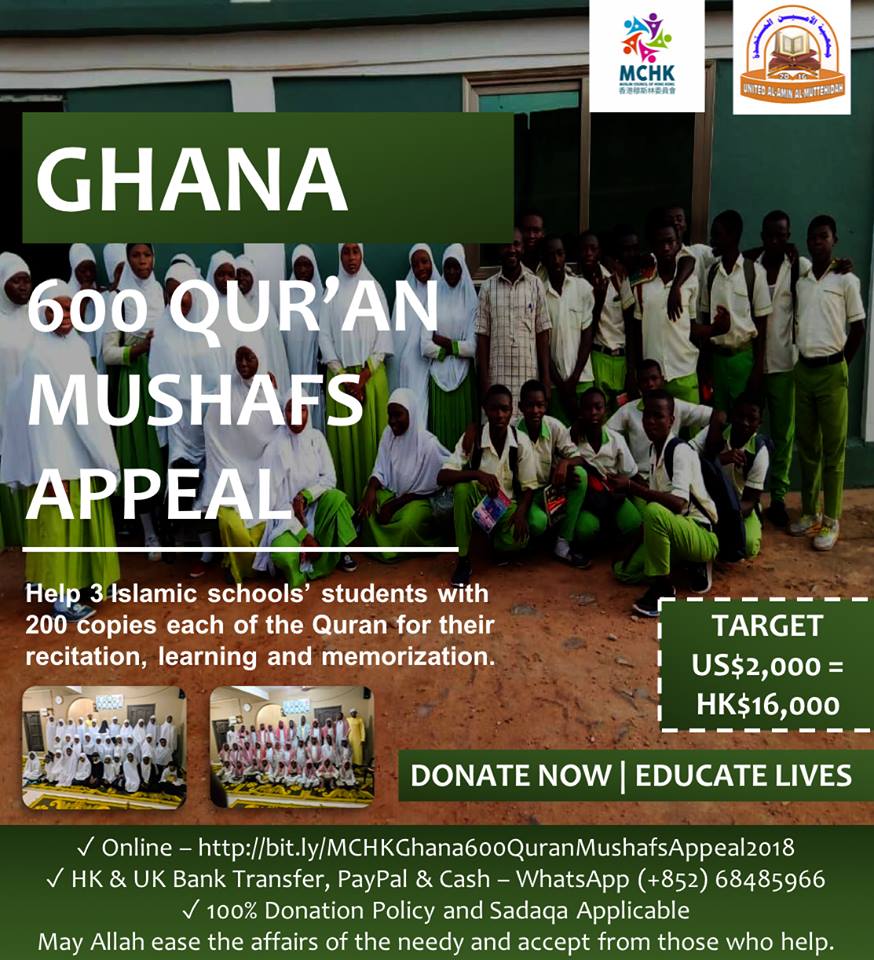 Ghana Quran Mushafs Print Copies Appeal
Muslim Council of Hong Kong
The initial appeal was to raise HK$16,000 to print 600 Quran mushafs to support 3 schools with 200 each. Alhumdulilah that was reached after a few hours of launch. 

Then we decided to raise 200 more copies to support one more school. Again Alhumdulilah that target was reached pretty soon. 

Finally we got HK$27,000 which is going to support 5 schools inside Ghana with 200 copies each of the book of Allah for their students, boys and girls. 

Honestly Jazak'Allahum Khayr to all! TaqqabAllahu minna wa minkum. May Allah Azzawajal accept from all and make it a means of sadaqa jariyah.
📖 One of the ways the #Quran can continue to be preserved is to make sure it's taught from generation to generation. 

🇬🇭 Three Islamic schools in Ghana's district of Kumasi are in need of 200 Quran mushafs each to teach their children and some adults how to recite, learn and memorize the book of Allah.
🕋 Prophet Muhammad (peace be upon him) said:

❝The best among you (Muslims) are those who learn the Qur'an and teach it.❞ 

[Sahih Bukhari 5027]

🤝 Muslim Council of Hong Kong alongside United Al-Amin Al-Muttehidah, a registered charity organisation inside Ghana, are looking to fundraiser the cost for the printing of the copies which will be done in Ghana itself. The amount raised will include the printing of the books, the transportation charges, the money sending charges and the banner printing.

🎯 Target = US$2,000 = HK$16,000

🌱 Imagine each time someone reads the copies of the Quran you will get the reward in your book of deeds too, it's a priceless form of sadaqa jariyah for you and even on behalf of your loved ones especially your parents. 

The Prophet (peace be upon him) said:

❝When a man passes away, his good deeds will also come to an end except for three: Sadaqah Jariyah (ceaseless charity); a knowledge which is beneficial, or a virtuous child who prays for him (for the deceased).❞ 

[Sahih Muslim]
🔹100% DONATION POLICY!
🔹SADAQA APPLICABLE! 

🤲 Oh Allah Azzawajal, enable us to be a means of spreading Your word across the world.