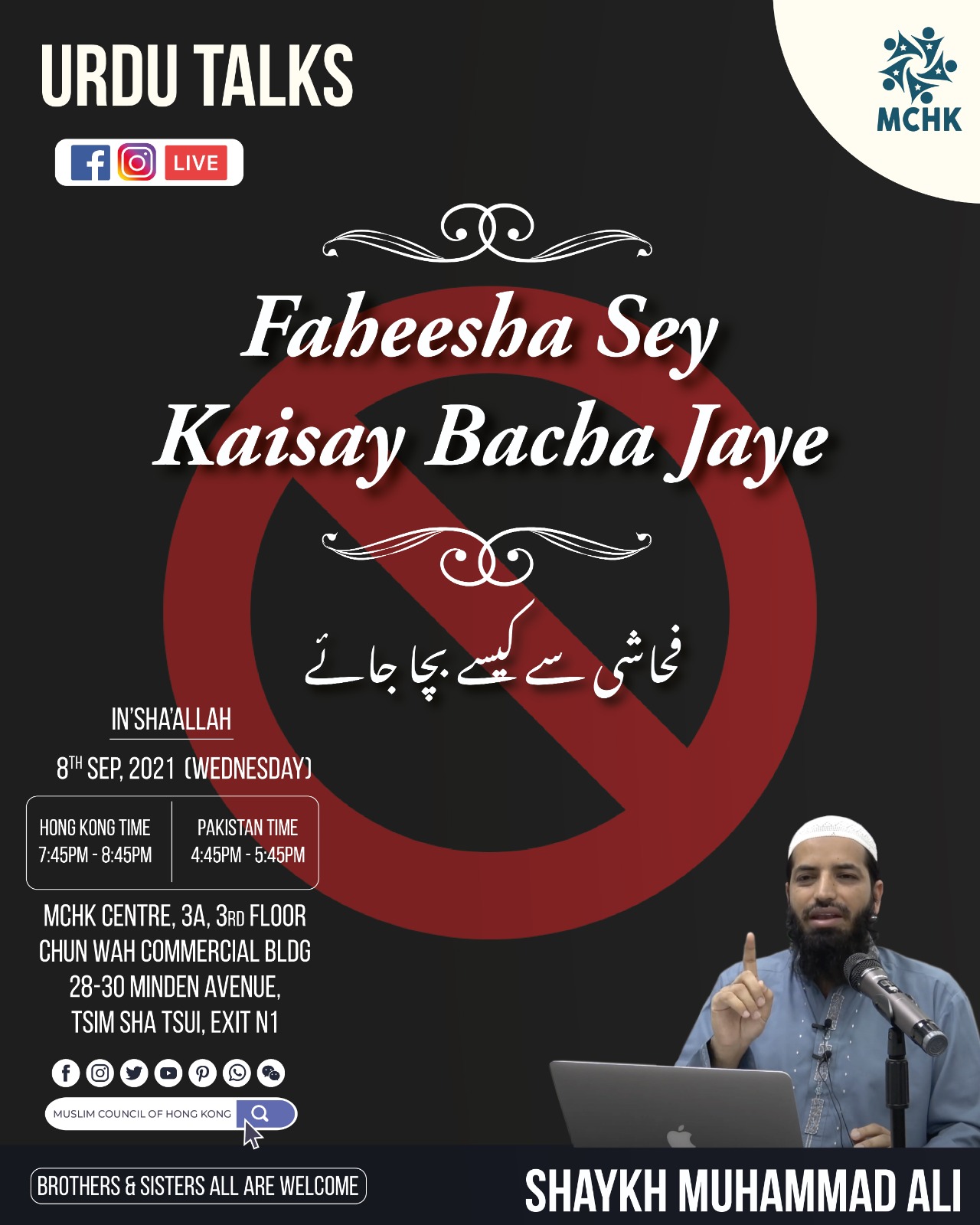 🛡 How to protect ourselves from unlawful desires and sins in general, especially as they continue to be glamorised and becoming a norm publicly.
🤝 Muslim Council of Hong Kong humbly invites you all, men and women, Muslims and non-Muslims, to attend this informative talk in person or by watching the live stream on our Facebook & Instagram pages in shā Allāh.
🕋 Prophet Muhammad ﷺ recommended a dua: ❝Allaahum-magh-fir dhan-bee wa ṭah-hir qal-bee, wa ḥaṣṣin far-jee. Oh Allah forgive my sin, cleanse my heart and guard my chastity.❞ (Ahmed 22211)
👤 Shaykh Muhamamd Ali is a Madinah University graduate and is currently the official Imam of Markaz At-Taqwa delivering regular talks and passionate to be involved in dawah work.
📋 Details in shā Allāh:
🔹 Date: 08-09-2021 (Wednesday)
🔹 Time: 7.30-8.30pm
🔹 Language: Urdu
🔹 Venue: MCHK Centre, 3A, 3rd Floor Chun Wah Commercial Building, 28-30 Minden Avenue, Tsim Sha Tsui (MTR EXIT N1 or P3)
🔸 Talk will be held at the MCHK centre with social distancing, will also shown live on MCHK Facebook page (fb.com/muslimcouncilofhk) and uploaded on YouTube channel (https://m.youtube.com/c/MuslimCouncilofHongKong) later in shā Allāh
🔸 Brothers and sisters all welcome for free
🔸 For more info, please whatsapp brother Adeel on +852 6848 5966 or e-mail info@muslimcouncil.org.hk
Attend • Share • Duas