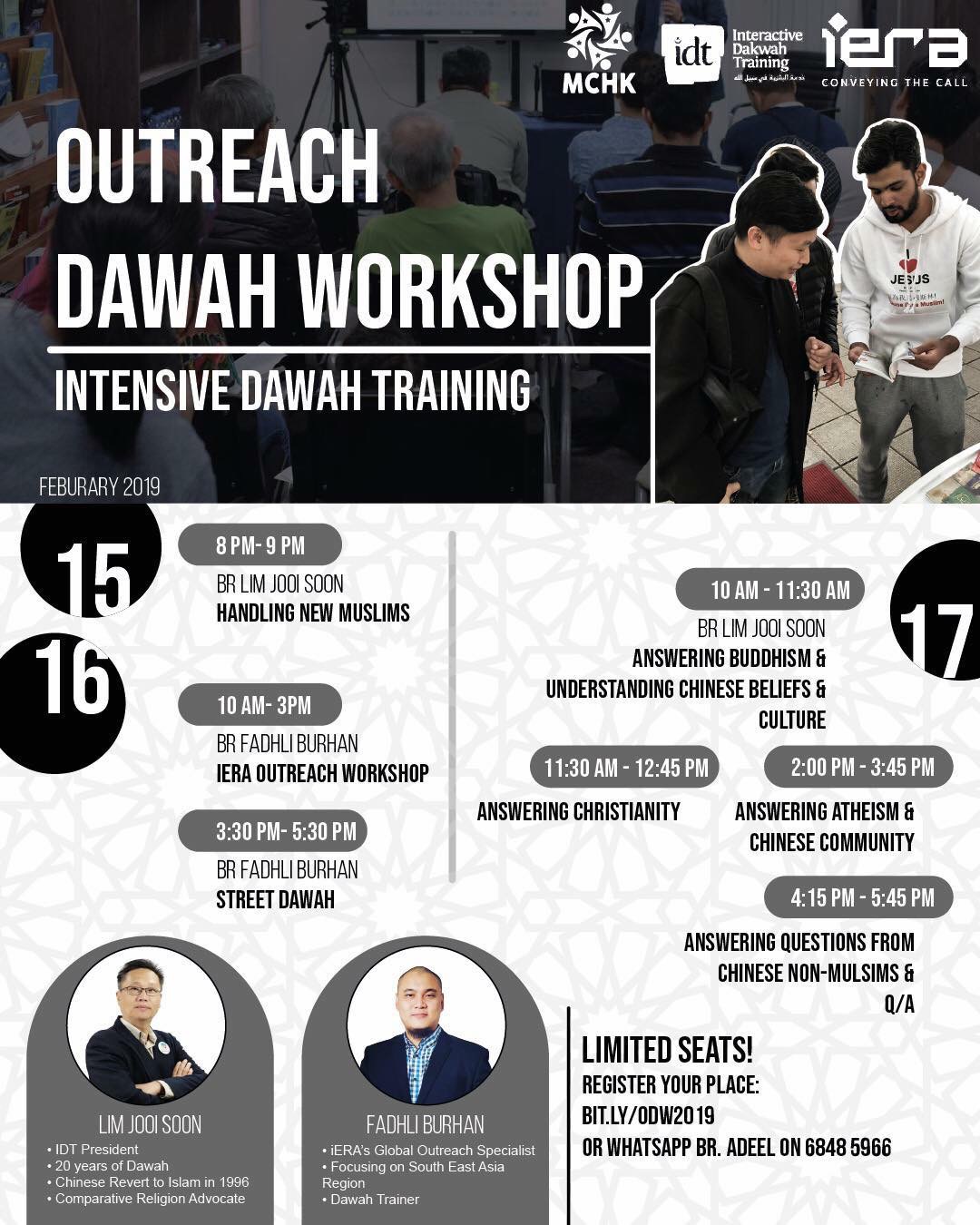 From 10:00 until 17:30
Outreach Dawah #Workshops | Intensive #Dawah Training | International Trainers 
📲 Register your place as they are LIMITED - bit.ly/ODW2019
🗣 Calling and inviting people to Islam is a duty upon every single Muslim, especially those living in non-Muslim lands. But many of us don't have the appropriate skill and knowledge set needed to do justice to this Prophetic act. 
🤝 Muslim Council of Hong Kong is excited to have arranged a 3-day intensive dawah training workshops for the Hong Kong Muslims in shā Allāh. We are doing this in collaboration with two world renowned dawah organisations such as IERA and IDT. 
👥 Two duats who have spent many years on the dawah field and are experienced comparative religion advocates are coming to pass on their knowledge and skill set to those who are eager in dawah in order to improve our way of inviting the Christians, the Buddhists and the Atheists, especially the Chinese people to Islam. 
🕋 Wouldn't you want to be part of this group which Allah has said will be successful?
❝And let there be [arising] from you a group of people inviting to [all that is] good, enjoining what is right and forbidding what is wrong, and those will be the successful.❞ 
(Quran 3:104)
✋ So, please don't miss this chance to be equipped with a training which will be an act of worship as seeking knowledge and passing it on are highly rewarding deeds in the sight of Allah. 
⭕️ Remember this is not just for those involved in Street Dawah, but in any form of dawah, be it at work, school or even with family and friends. 
📲 Register your place as they are limited - bit.ly/ODW2019
🗓 Details in shā Allāh:
🔹 Dates: 15th-17th February 
🔹 Location: MCHK Centre, TST
🔹 Cost: Free
🔹 Who: Brothers and sisters all welcome, including beginners
📞 For inquiries, WhatsApp Br. Adeel on (+852) 68485966
🤲 May Allah enable us to increase our knowledge for His sake and allow us to take advantage of such opportunities.