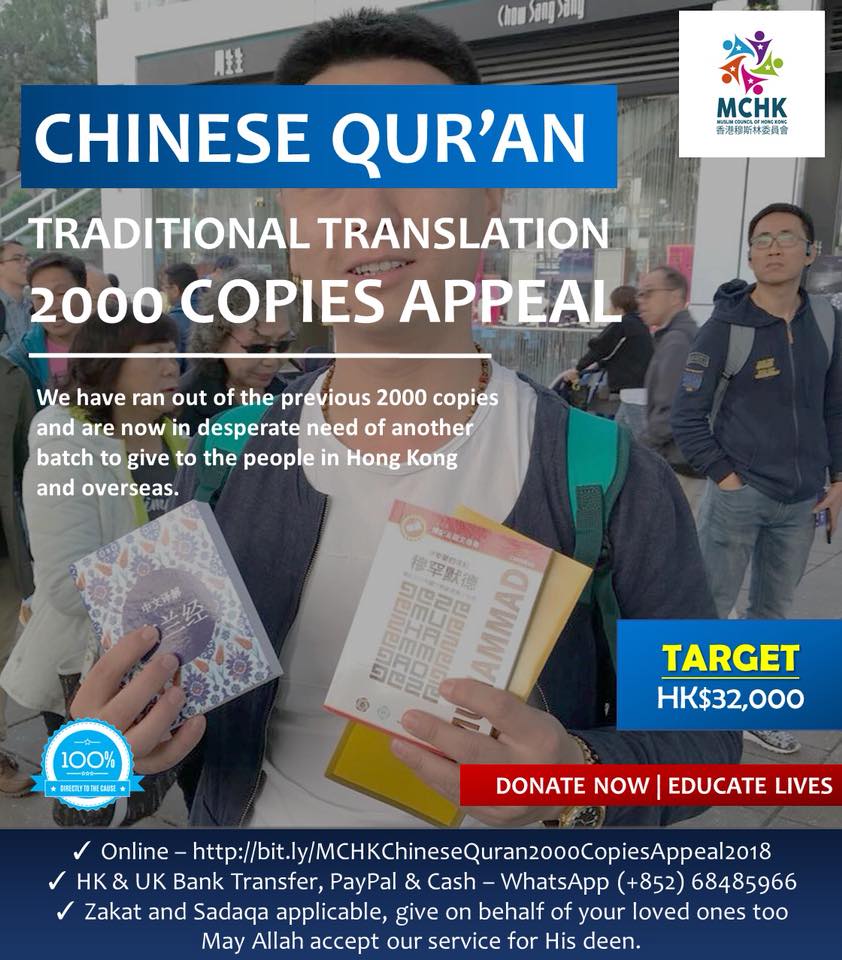 Chinese Quran 2000 Copies Appeal
Muslim Council of Hong Kong
 Allahu Akbar! A special day for us! Alhumdulilah, by the great mercy of Allah, we have received the traditional Chinese Quran 2000 copies at our centre! 

😁 By Allah, we are super happy for having this becoming a reality. Please check the pictures to see the copy including the invoice showing the full HK$32,000 being spent.
📖 Without a shadow of a doubt, the best book of guidance on the face of the earth is the book of Allah and thus the best form of dawah is to give out this book of guidance. 
🤝 Muslim Council of Hong Kong have been at the forefront, by the grace of Allah, giving out copies of the Quran in English and in Chinese locally and globally. 

📣 Now, we have ran out and are in need to print again. We are looking to print 2,000 copies of the traditional Chinese translation in A5 size, having around 500 pages and will be printed locally in Hong Kong in sha Allah.

✊ With your donations, we hope to continue the priceless work of dawah and you just don't know which copy can be a source of guidance for someone, leading to the reward for it being recorded for the one who was part of this act in sha Allah.

❝Whoever guides someone to goodness will have a similar reward.❞

[Prophet Muhammad (peace be upon him) | Sahih Muslim 1893 ]

📩 So, please do not let such an opportunity go past without giving something towards the distribution of the Quran. Give and know every little counts. Again, every support makes a difference in shā Allāh!
🔺 Zakat & sadaqa jariya applicable!

👐 May Allah enable us to be quick to spend in His path, protect our good deeds and bring ease to those in need