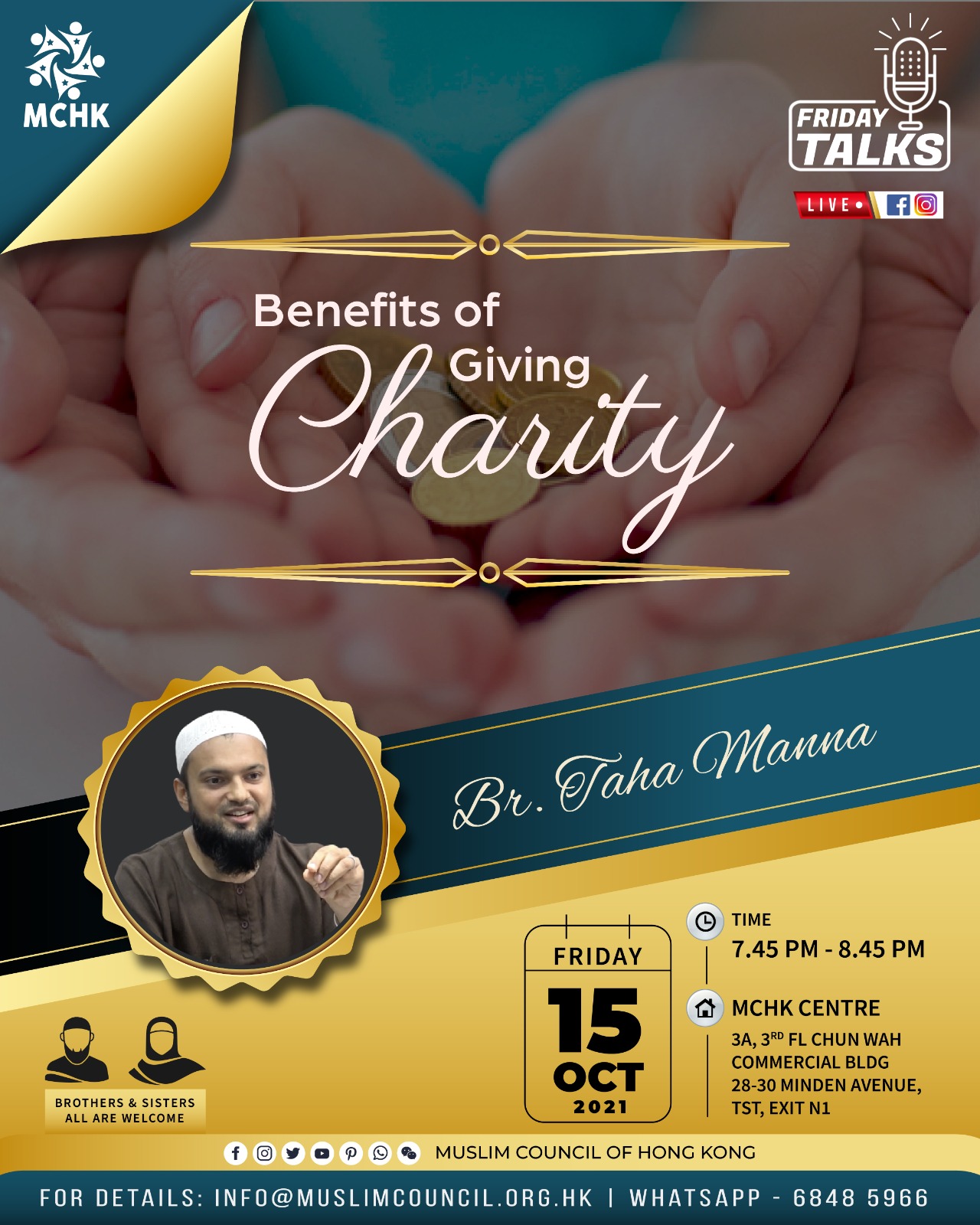 💝 It goes without saying there are plenty of virtues for giving charity, but it's benefiting to remind ourselves as Muslims what our Allah and our Prophet have said about this priceless deed.
🗣 Muslim Council of Hong Kong wholeheartedly invites you all, men and women, Muslims and non-Muslims, to watch this enlightening and informative talk.
🕋 Allāh Almighty says:
❝O believers! Donate from what We have provided for you before the arrival of a Day when there will be no bargaining, friendship, or intercession.❞ (Quran 2:254)
👤 Br. Mohammed Taha is a joyful, harmonious and adventurous individual who strives to learn about Islam for himself and his family in order to benefit them in both worlds.
✋ So make sure you attend this talk in person or at least online to be part of a gathering of knowledge and remembrance of Allah which is the best of gatherings.
📋 Details in shā Allāh: ⠀⠀⠀⠀⠀⠀⠀⠀⠀⠀⠀⠀ ⠀⠀⠀⠀⠀⠀⠀⠀⠀⠀⠀⠀
🔹 Date: 15-10-2021 (Friday)
🔹 Time: 7.45-8.45pm
🔹 Language: English
🔹 Venue: MCHK Centre, 3A, 3rd Floor Chun Wah Commercial Building, 28-30 Minden Avenue, Tsim Sha Tsui (MTR EXIT N1 or P3)
🔸 Talk will be held at the MCHK centre with social distancing, will also be shown live on MCHK Facebook page (fb.com/muslimcouncilofhk) and uploaded on YouTube channel (https://m.youtube.com/c/MuslimCouncilofHongKong) later in shā Allāh
🔸 Brothers and sisters all welcome for free