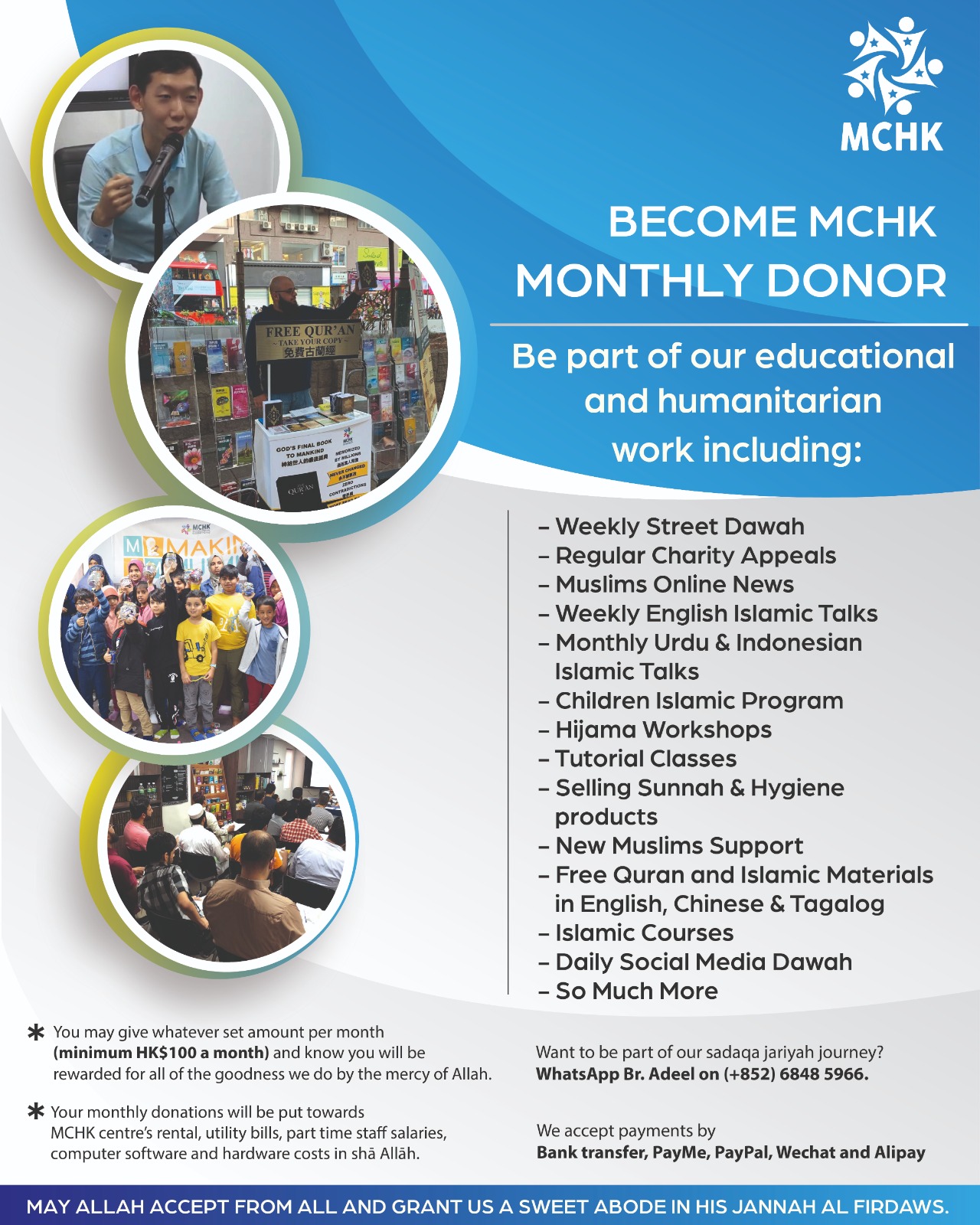 Become MCHK Monthly Donor
.
🙌 As we keep ourselves busy on the few days and nights of Ramadan, one of the best things we ought to do is to give in charity, especially sadaqa jariyah.
✊ I humbly invite you to become part of the MCHK educational and humanitarian work that we have been doing by the mercy of Allah since 2015, benefitting thousands of people locally and globally Alhumdulilah.
.
💞 Your generous monthly donation will continue to help us with the following in shā Allāh
.
- MCHK centre monthly rent
.
- utility bills
.
- part time staff salaries
.
- computer software/hardware costs
.
💪 You can see all the work MCHK has been undertaking again only by the mercy of Allah. Surely you want to be part of it?
.
🕋 Prophet Muhammad (peace be upon him) said: ❝Indeed Allah, His Angels, the inhabitants of the heavens and the earths - even the ant in his hole, even the fish - call down blessings on those who instruct others in beneficial knowledge.❞ (Tirmidhi)
.
🤝 Currently, we have 118 monthly donors, Alhumdulilah. Jazak'Allahu Khayr to every single one of them! If we can get more donors on board, we hope to do more dawah work, especially street dawah at more locations in shā Allāh.
.
📲Surely you want some easy good deeds, continuous deeds recorded for you through our work? You can give any set amount per month (HK$100, etc). Sign up, WhatsApp Br. Adeel (+852) 6848 5966.
.
🤲 May Allah accept and reward immensely all who are giving from their wealth to help the Islamic message to be spread consistently, passionately and globally.