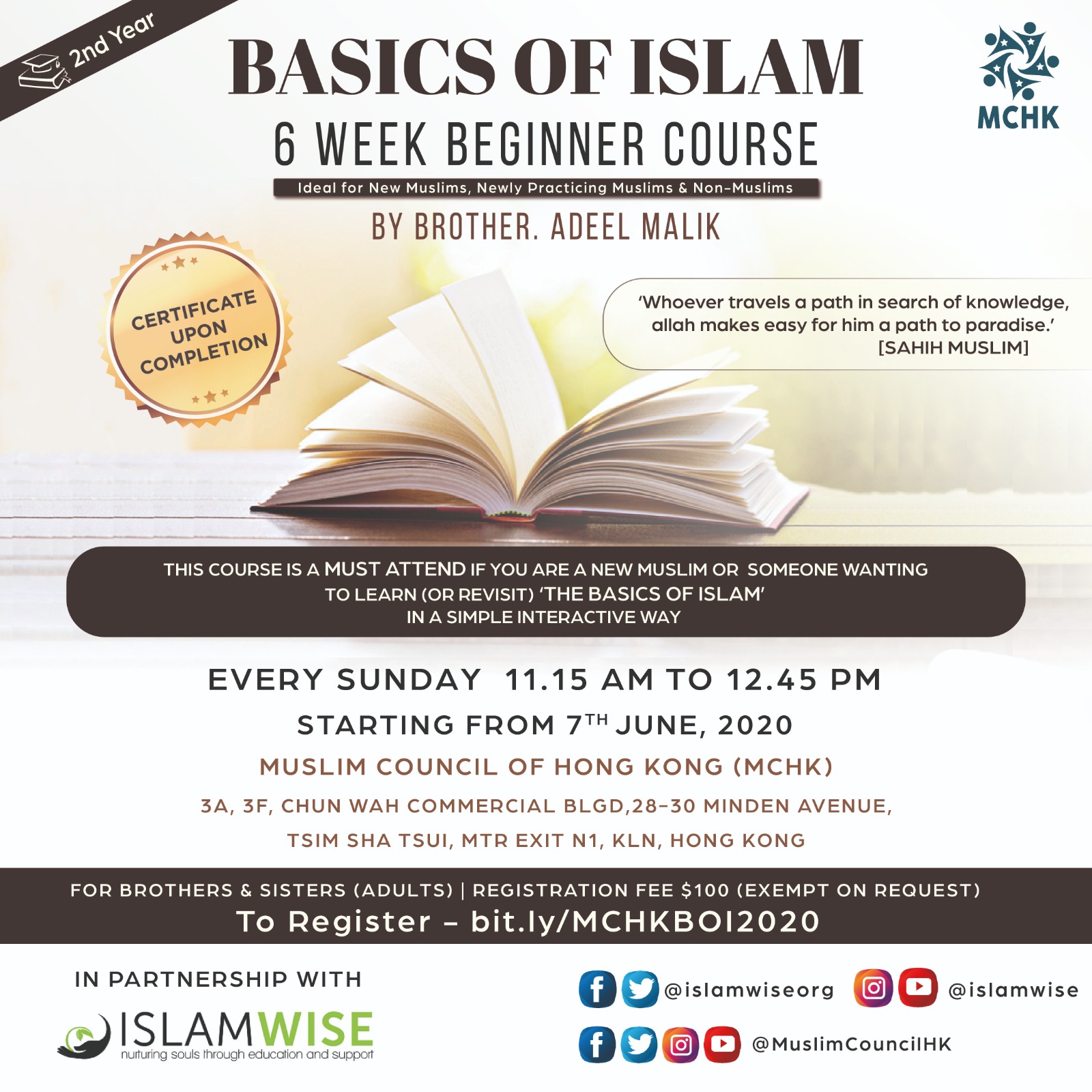 From 11.15am until 12.45pm
At MCHK Centre
Basics of #Islam | 6 Week Beginner Course
🤔 Are you someone who wants to know the foundation principles and theology of the religion of Islam? This is for you.
📱 Register - bit.ly/MCHKBOI2020
📚 After popular demand Alhumdulilah, for the 2nd time in Hong Kong, MCHK in partnership with Islamwise brings you an informative and interactive course, which is designed for new Muslims, newly practicing Muslims & non-Muslims.
👤 Br. Adeel Malik is an active activist who has been involved in the field of Islamic dawah for more than 10 years. Being a qualified teacher, he uses his skills to keep his audience engaged and is able to build good rapport with people of all backgrounds.
🕋 Remember, as a Muslim or even just as a human, seeking knowledge is an obligation and it opens doors of goodness as Prophet Muhammad (peace be upon him) said:
❝Whoever travels a path in search of knowledge, Allah makes easy for him a path to knowledge.❞ (Sahih Muslim)
📋 Details in shā Allāh:
🔹 Every Sunday starting from 7th June 2020
🔸 11.15 am - 12.45 pm
🔹MCHK Centre, 3A, 3/F Chun Wah Commercial Building, Tsim Sha Tsui, Kowloon (MTR exit N1)
🔸Open to brothers and sisters, adults only
🔹 Register - bit.ly/MCHKBOI2020 (max 15 quota)
🔸 Fees - HK$100 to enrol (money towards dawah)
🔹 Certificate upon completion
🤲 May Allah grant us beneficial knowledge and guide us to learn about His religion from the authentic sources.