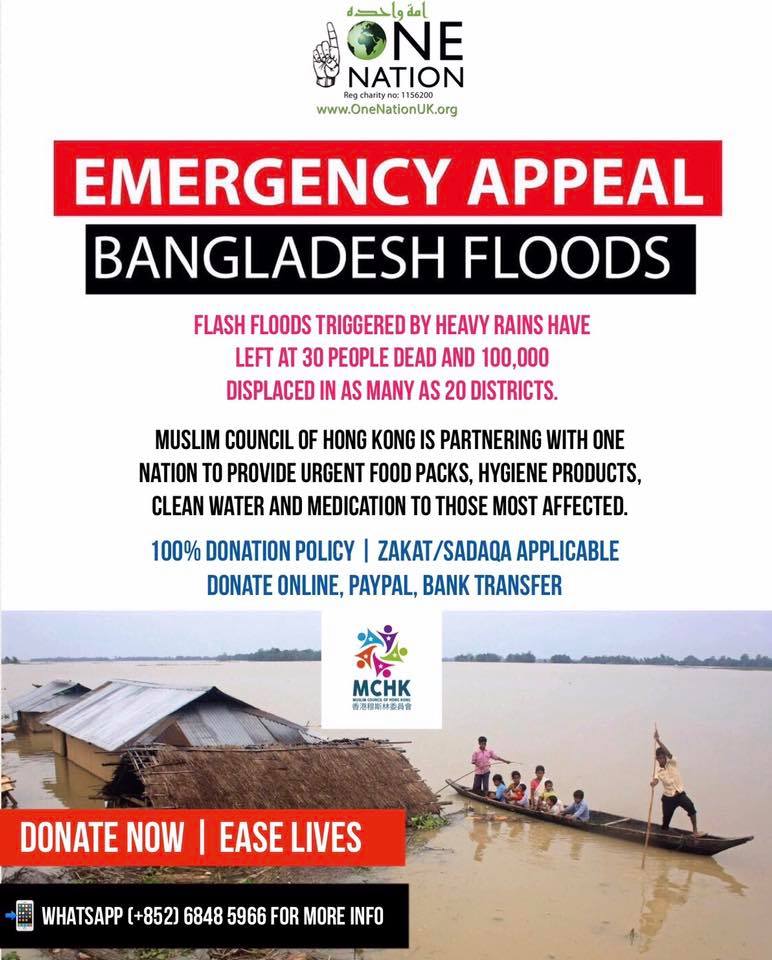 Bangladesh Floods Emergency Appeal
Muslim Council of Hong Kong
🇧🇩 Last week, South Asia was hit by heavy rain which led to severe flooding in a number of districts in #Bangladesh.

〽 So far, at least 30 people have died in Bangladesh with 100,000 affected with the numbers rising daily. The flooding is the most extreme in more than a decade, affecting 16 million people across Bangladesh, Nepal and India.

🤝 Muslim Council of Hong Kong is partnering with One Nation to provide urgent  food packs, hygiene products, clean water and medication to those most affected.
🕋 ❝Whoever helps ease someone in difficulty, Allah will make it easy for him in this world and in the Hereafter.❞ 

[Prophet Muhammad (ﷺ) | Sahib Muslim 2699] 

🔺 This is zakat and sadaqa jariya applicapble! 

📥 So, please don't think twice, give some of your wealth for the sake of Allah and know wealth doesn't increase by giving as He will give reward in multifold.
👐 May Allah accept from all, protect the good deeds and ease the suffering of the needy around the world whilst making us the means of their ease.