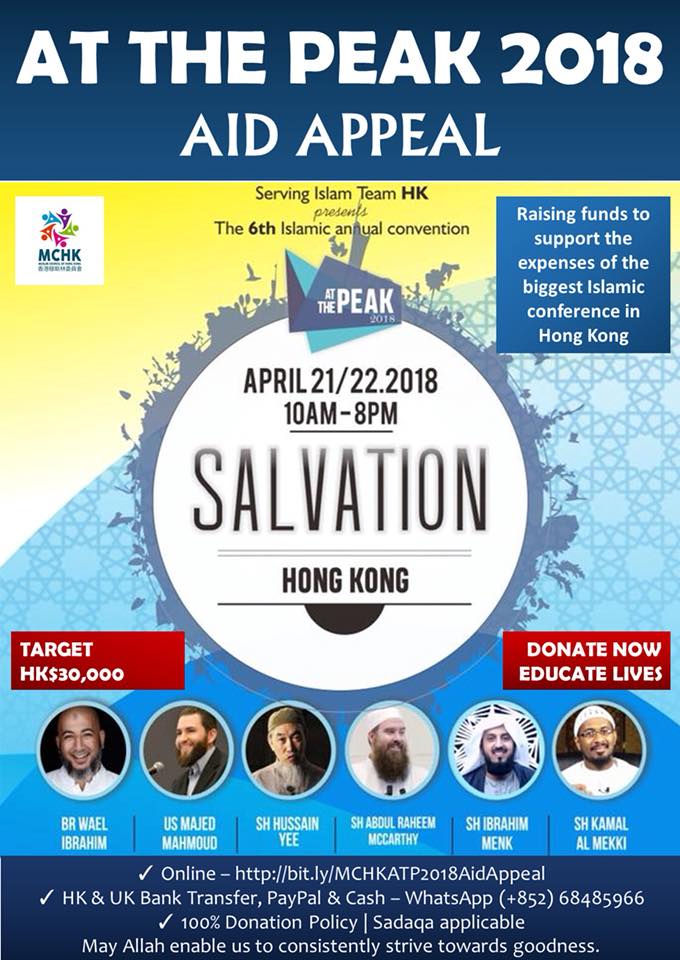 At The Peak 2018 Aid Appeal
Muslim Council of Hong Kong
📖 The best of gatherings is one in which the speech of Allah and His Prophet (peace be upon him) is being mentioned and to support that gathering is an undeniable act of Al-Birr (goodness and piety). 
🤝 Muslim Council of Hong Kong are humbled to be an official partner of Serving Islam Team's upcoming At The Peak Islamic conference, the biggest annual Islamic event in Hong Kong. 

📣 Like with any such scaled events, there's costs involved, and being in Hong Kong, they are pretty high.

✊ With your donations, We are looking for your help to aid in this cost and know you are becoming a means of dawah, a priceless and precious act.

❝Whoever guides someone to goodness will have a similar reward.❞ 

[Prophet Muhammad (peace be upon him) | Sahih Muslim 1893 ] 
🔺 Sadaqa jariya applicable! 

👐 May Allah enable us to be quick to spend in His path, protect our good deeds and make us steadfast upon goodness.