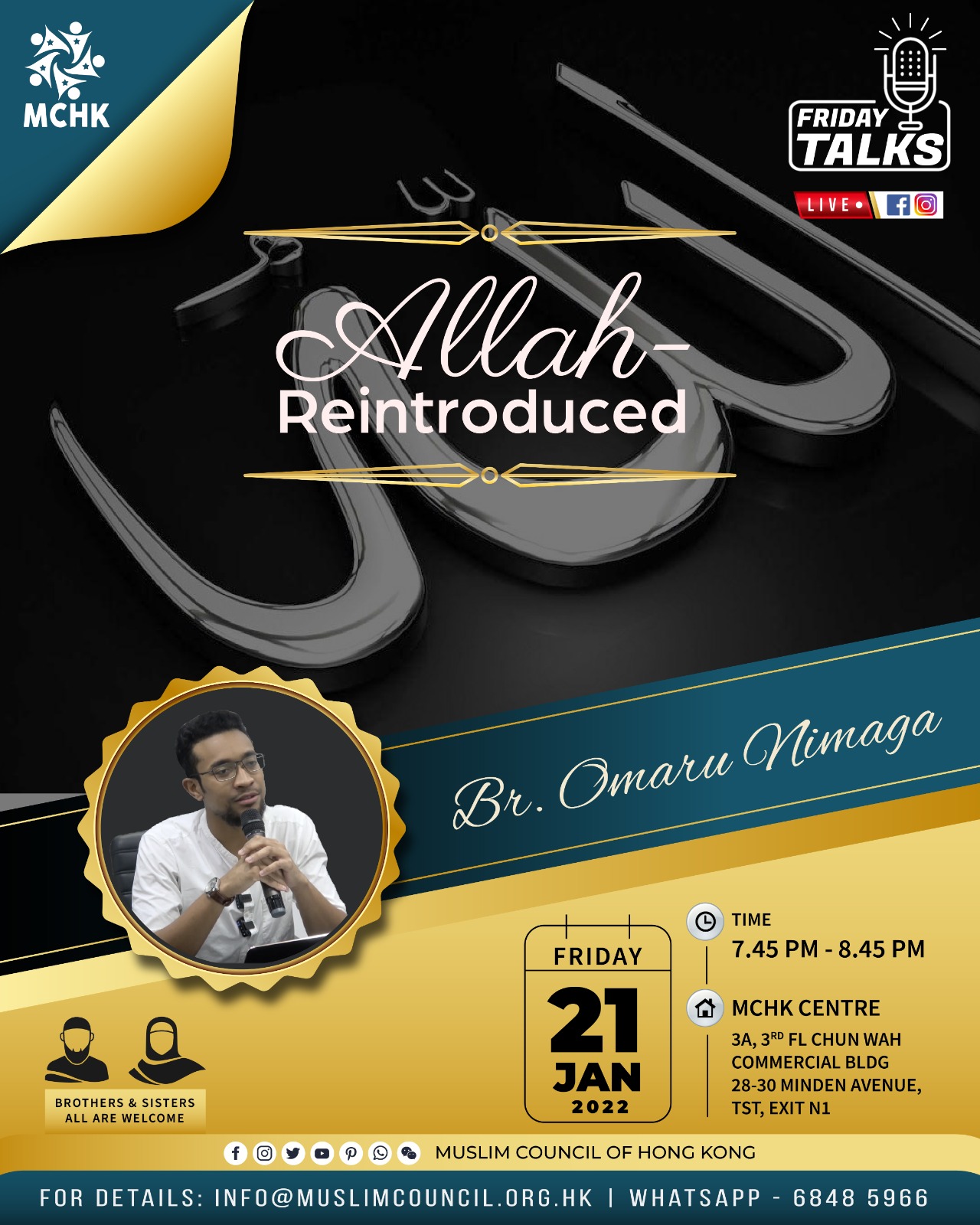 ☝️ Is Allāh really part of our daily lives thoughts? Do we really know Allah or it's just something we blindly accept due to family? Wouldn't it be great to bring Allāh back into our daily lives matters?
🗣 Muslim Council of Hong Kong wholeheartedly invites you all, men and women, Muslims and non-Muslims, to watch this enlightening and emaan boosting talk.
🕋 Knowing Allāh is the most important matter for human being after all He says: ❝Indeed, (it is) We (Who) created humankind and (fully) know what their souls whisper to them, and We are closer to them than (their) jugular vein. ❞ [Quran 50:16]
👤 Br. Omaru Nimaga is a young, knowledge seeking and humble brother who is a HKU graduate, and shows eagerness to help especially the youth and the revert Muslims.
✋ So make sure you attend this talk in person or at least online to be part of a gathering of knowledge and remembrance of Allah which is the best of gatherings.
📋 Details in shā Allāh:
⠀⠀⠀⠀⠀⠀⠀⠀⠀⠀⠀⠀
🔹 Date: 21-01-2022 (Friday)
🔹 Time: 7.45-8.45pm
🔹 Language: English
🔹 Venue: MCHK Centre, 3A, 3rd Floor Chun Wah Commercial Building, 28-30 Minden Avenue, Tsim Sha Tsui (MTR EXIT N1 or P3)
🔸 Talk will be held at the MCHK centre with social distancing, will also be shown live on MCHK Facebook page (fb.com/muslimcouncilofhk) and uploaded on YouTube channel (https://m.youtube.com/c/MuslimCouncilofHongKong) later in shā Allāh
🔸 Brothers and sisters all welcome for free
🔸 For more info, please whatsapp brother Adeel on +852 6848 5966 or e-mail info@muslimcouncil.org.hk
Attend • Share • Duas