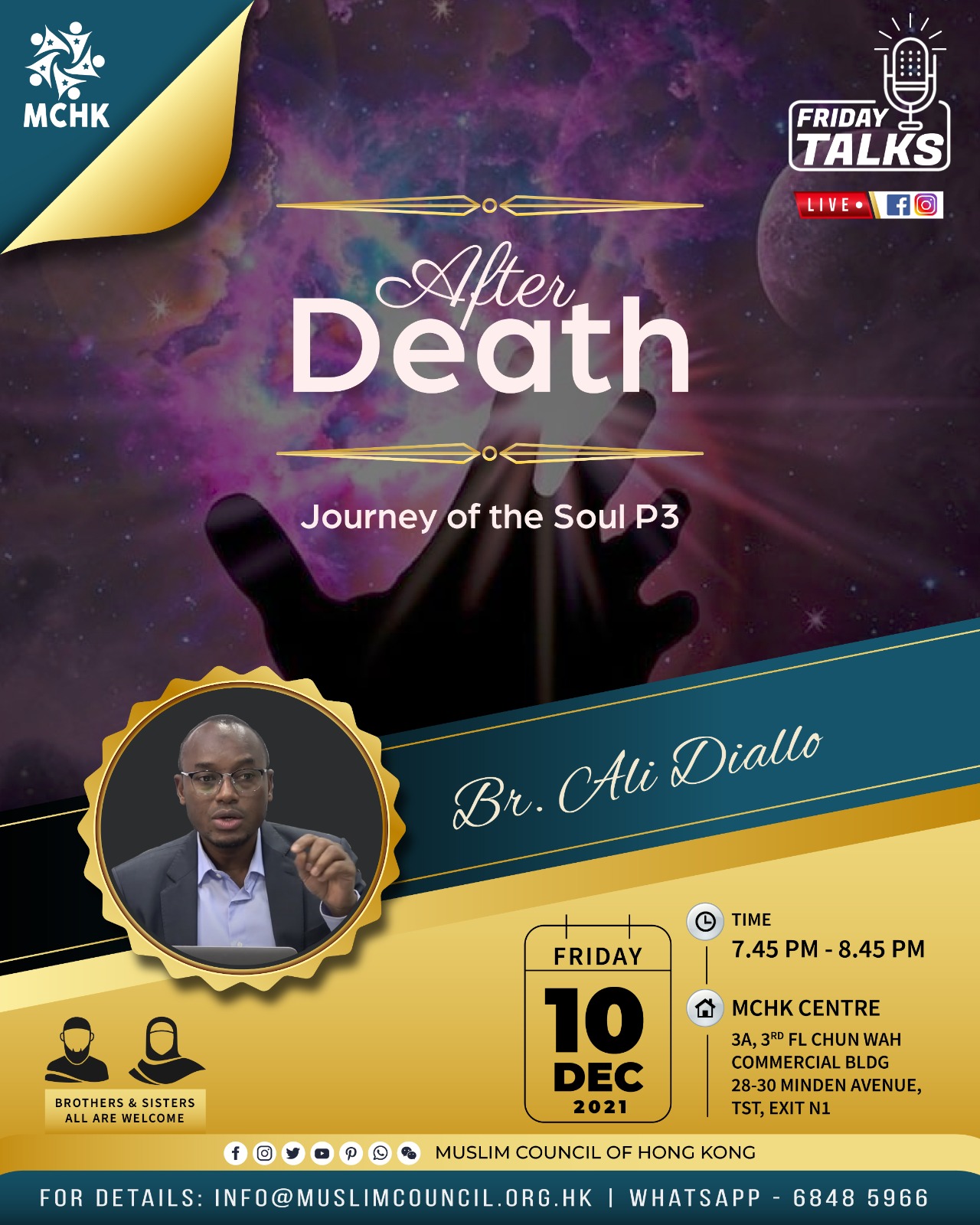 💫 Allah gave us our physical bodies for this world, but what is not just for this world is our #soul, our ruh. Do we know the different stages Allah makes our soul goes through? This series will in shā Allāh hope to do just that.
🤝 Muslim Council of Hong Kong humbly invites you all, men and women, Muslims and non-Muslims, to attend this informative talk in person or by watching the live stream on our Facebook & Instagram pages in shā Allāh.
🕋 Allah said: ❝And they ask you, [O Muḥammad], about the soul. Say, "The soul is of the affair [i.e., concern] of my Lord. And you [i.e., mankind] have not been given of knowledge except a little.❞ (Quran 17:85)
👤 Br. Ali Diallo is the president of Hong Kong's African community council. He's a zealous brother who is constantly hungry to seek beneficial knowledge and to spread it.
✋ So make sure you attend this talk to be part of this gathering of knowledge and remembrance of Allah which is the best of gatherings.
📋 Details in shā Allāh:
🔹 Date: 10-12-2021 (Friday)
🔹 Time: 7.45-8.45pm
🔹 Language: English
🔹 Venue: MCHK Centre, 3A, 3rd Floor Chun Wah Commercial Building, 28-30 Minden Avenue, Tsim Sha Tsui (MTR EXIT N1 or P3)
🔸 Talk will be held at the MCHK centre with social distancing, will also be shown live on MCHK Facebook page (fb.com/muslimcouncilofhk) and uploaded on YouTube channel (https://m.youtube.com/c/MuslimCouncilofHongKong) later in shā Allāh
🔸 Brothers and sisters all welcome for free
🔸 For more info, please whatsapp brother Adeel on +852 6848 5966 or e-mail info@muslimcouncil.org.hk
Attend • Share • Duas