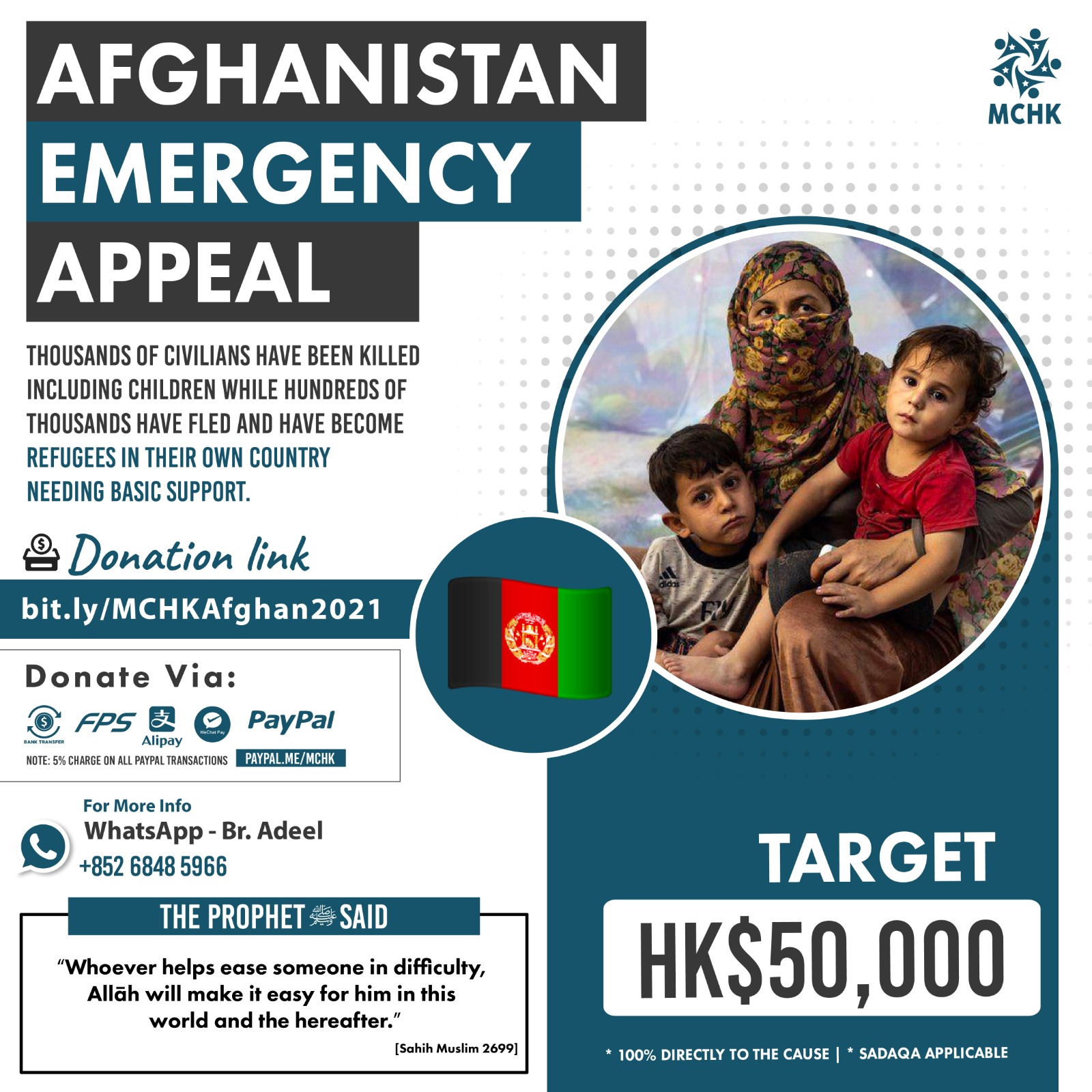 🇦🇫 Across #Afghanistan, over 1000 civilians have been killed the past 30 days, including children, and thousands of displaced Afghans are camping out on the streets.
📥 Donate: bit.ly/MCHKAfghan2021
🤝 Muslim Council of Hong Kong are partnering once again with MAA (Muslim Aid Australia), a registered charity organisation who aims to provide essentials like food packs, temporary shelter like tents, and blankets to help those in a difficult situation.
🕋 The Prophet (peace be upon him) said:
❝Whoever helps ease someone in difficulty, Allāh will make it easy for him in this world and the hereafter.❞ [Sahih Muslim 2699]
📥 Please support this cause and know your reward is with Allah. Give something on behalf of your parents or other loved ones too.
🤲 May Allah reward everyone who contributes to all types of projects and may He grant ease to those suffering and in need.
📥 You can donate by:
✔️ Direct - bit.ly/MCHKAfghan2021 (please note the currency on the page is in AU$ which is 1AU$ = 5.5HK$)
✔️ Bank, FPS, PayMe, WeChat & Alipay Transfer - WhatsApp (+852) 68485966 for more details
✔️ PayPal - paypal.me/mchk
💢 For all bank/PayPal donations, please confirm your donation by sending a WhatsApp message to brother Adeel Malik on (+852) 68485966. And please note there's a 5% charge on all PayPal transactions.
🔹 100% DONATION POLICY
🔹 SADAQA APPLICABLE