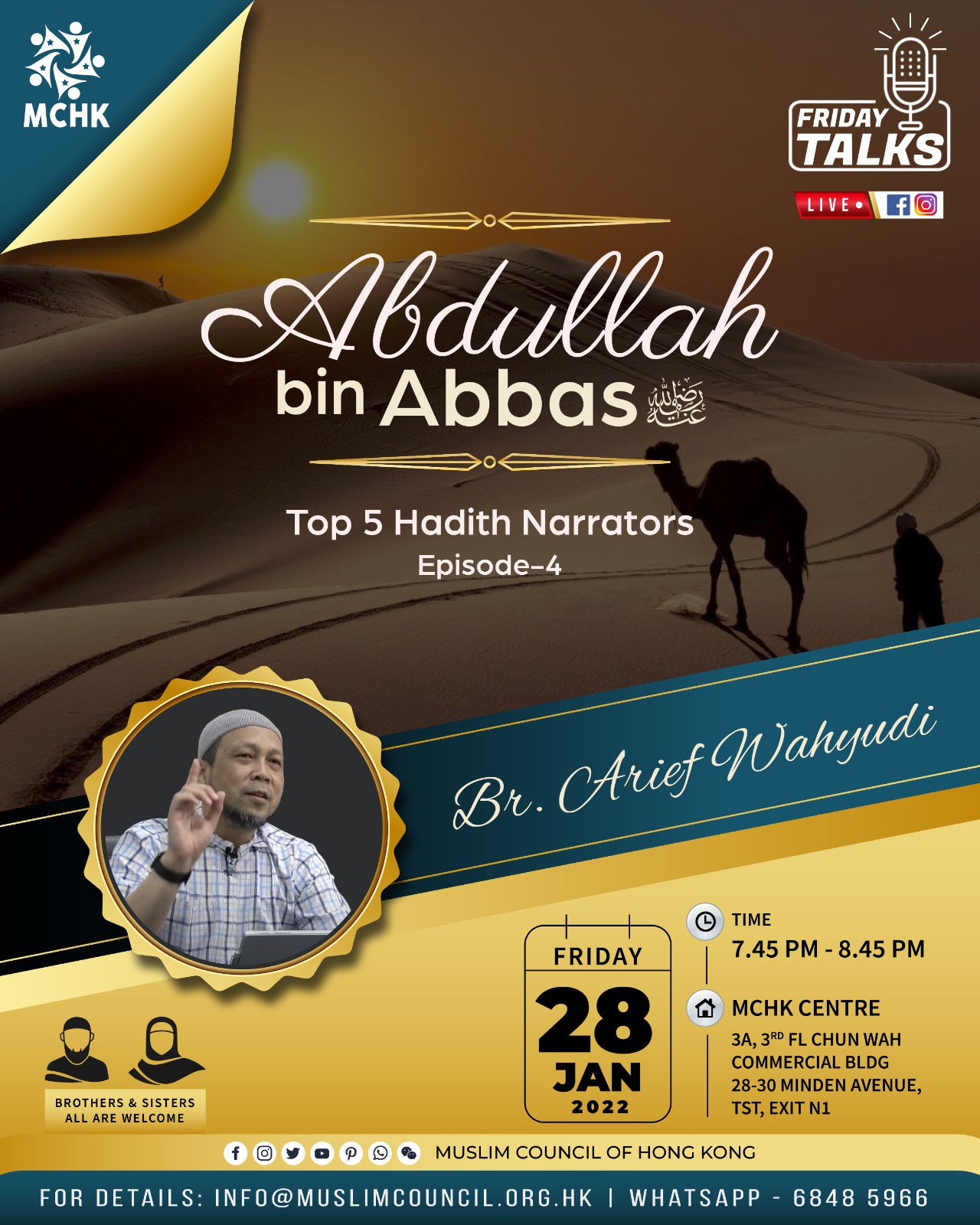 ☝️ Just as Allāh preserved His Quran from being lost and corrupted, He did the same for the teachings and lifestyle of His beloved Prophet Muhammad ﷺ through none other than the sahabas (ra).
📜 This series will explore the lifestyles of the top 5 sahabas who narrated the most number of ahadeeth, how they did so and what inspired them to do so.
4️⃣ The fourth episode is on the man who was ever hungry to seek benefitical knowledge, a cousin of the Prophets ﷺ and one of the most knowledgable on the Tafsir of the Quran and the rulings of the Sunnah - Abdullah bin Abbas (Radhi'Allah Annhu).
🕋 The Messenger of Allah ﷺ supplicated Allah for him saying:
❝O Allah! Endow him with the favor of comprehending religious knowledge.❞ (Bukhari)
👤 Brother Arief Wahyudi is a passionate and charismatic speaker who has been a seeker of knowledge for years and delivering lectures and talks esepcially to his community.
✋ So make sure you attend this talk in person or at least online to be part of a gathering of Islamic knowledge and remembrance of Allah which is the best of gatherings.
📋 Details in shā Allāh:
🔹 Date: 28-01-2022 (Friday)
🔹 Time: 7.45-8.45pm
🔹 Language: English
🔹 Venue: MCHK Centre, 3A, 3rd Floor Chun Wah Commercial Building, 28-30 Minden Avenue, Tsim Sha Tsui (MTR EXIT N1 or P3)
🔸 Talk will be held at the MCHK centre with social distancing, will also be shown live on MCHK Facebook page (fb.com/muslimcouncilofhk) and uploaded on YouTube channel (https://m.youtube.com/c/MuslimCouncilofHongKong) later in shā Allāh
🔸 Brothers and sisters all welcome for free
🔸 For more info, please whatsapp brother Adeel on +852 6848 5966 or e-mail info@muslimcouncil.org.hk
Attend • Share • Duas