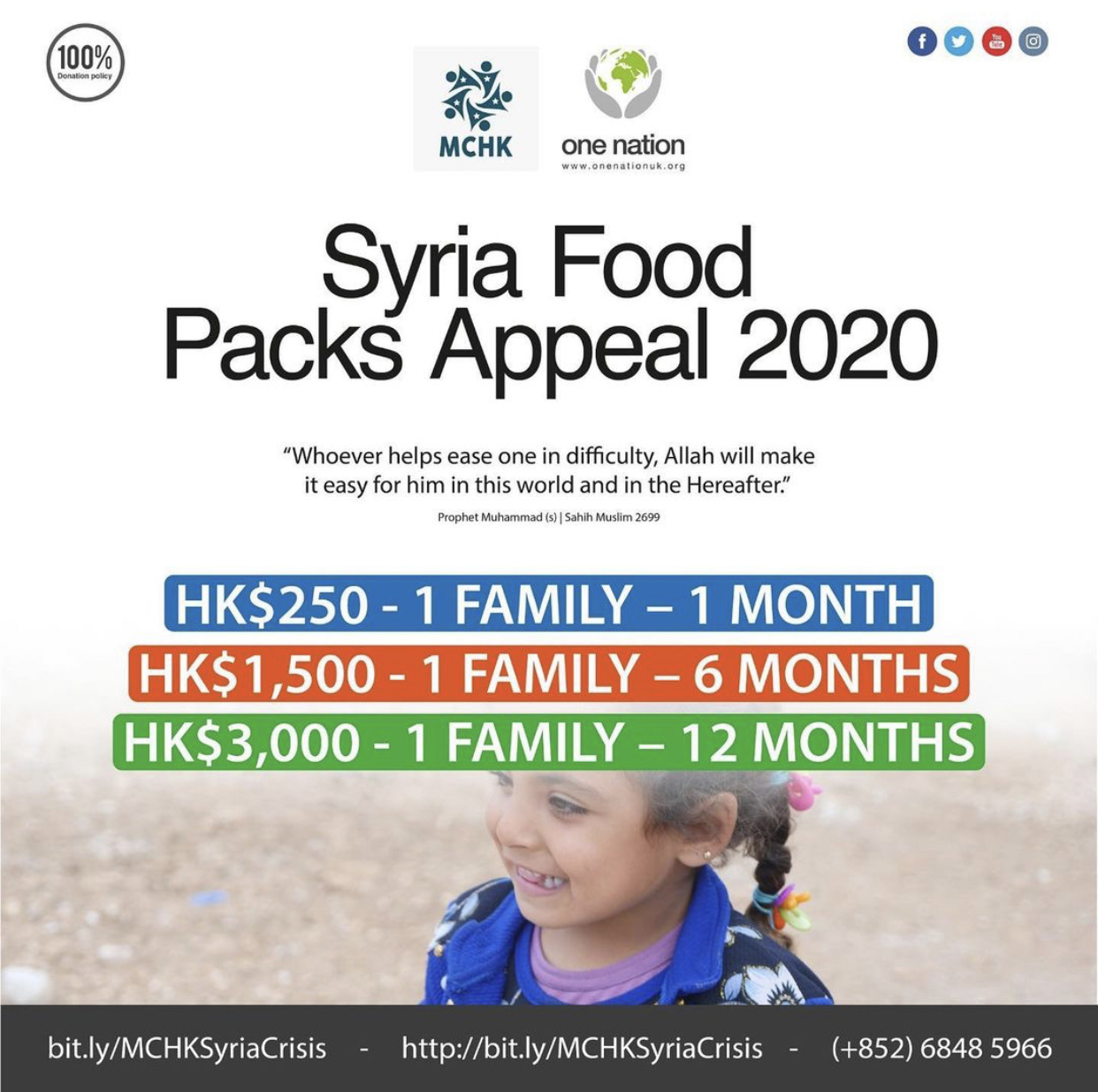 #SYRIA FOOD APPEAL 2020
🇸🇾 Syria has been ravaged by civil war since early 2011. Hundreds of thousands of people have been killed, and more than 10 million displaced.
💰 Donate - bit.ly/MCHKSyriaCrisis
🕋 Prophet Muhammad (peace be upon him) said: ❝The heartland of the believers is ash-Shaam.❞ [Imam Ahmed Silsilat al-Ahaadeeth as-Saheehah (1935)]
🤝 Muslim Council of Hong Kong are looking to support One Nation, a registered charity organisation, who has people inside Syria providing essential aid for many years.
💸 Your donations will help us to continue providing food support to the people, especially the children, the elderly and the vulnerable in the society.
🕋 Prophet Muhammad (peace be upon him) said: ❝Whoever relieves a Muslim of some worldly distress, Allah will relieve him of some of the distress of the Day of Resurrection❞ [Sunan Ibn Majah 225 Sahih]
💰 You can donate by:
✔️ Direct - bit.ly/MCHKSyriaCrisis
✔️ PayPal - paypal.me/mchk
✔️ Bank, FPS, PayMe, AliPay & WeChat Transfer - WhatsApp (+852) 68485966 for more details
📲 For all bank/PayPal donations, please confirm your donation by sending a WhatsApp message to brother Adeel Malik on (+852) 68485966. And please note there's a 5% charge on all PayPal transactions.
🤲 May Allah reward everyone who contributes to this project and every other similar project and may He grant ease to those who are in need worldwide.
🔹100% DONATION POLICY
🔹ZAKAT & SADAQA APPLICABLE
DONATE SHARE