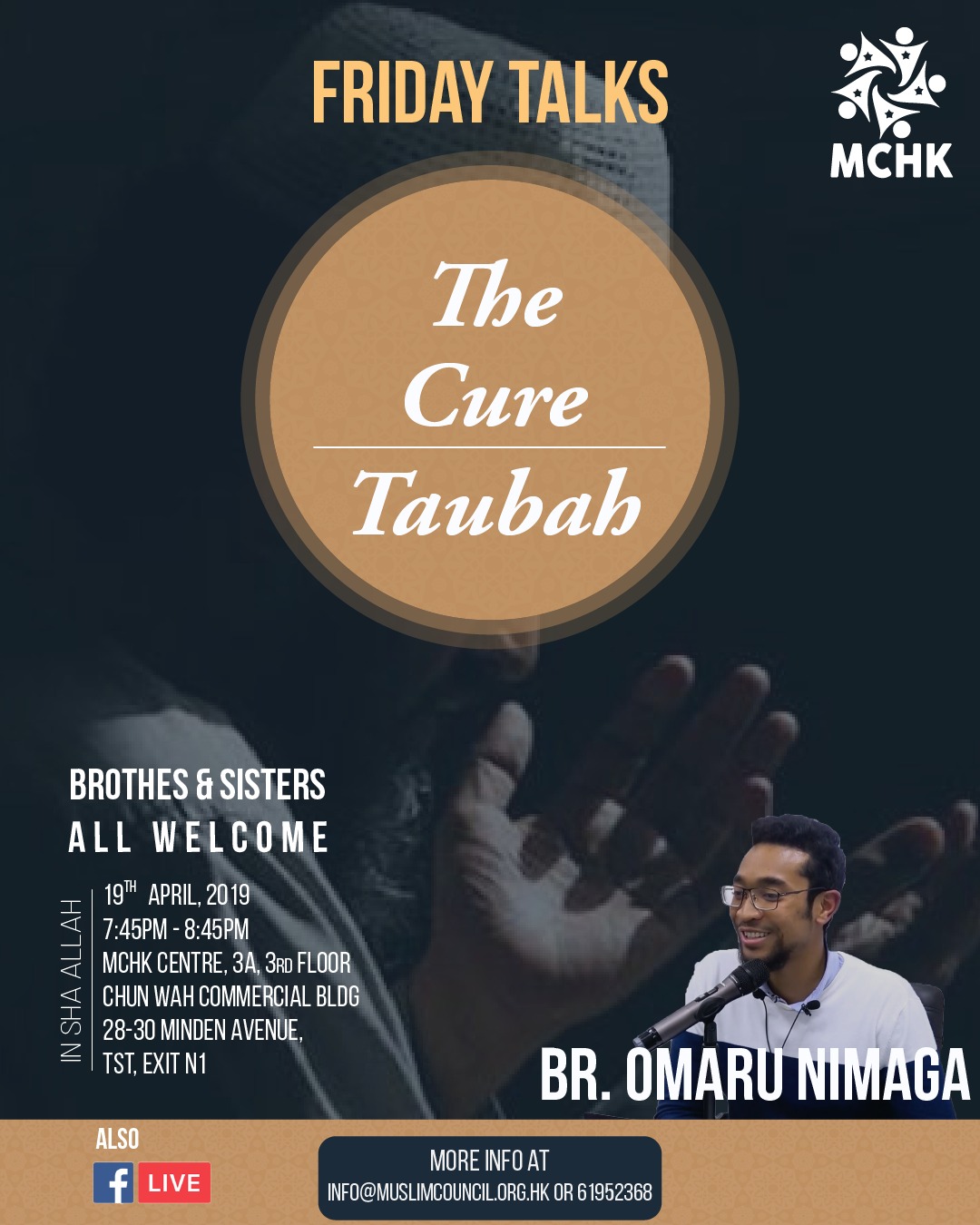 From 19:45 until 20:45
The Cure - #Taubah | Br. Omaru Nimaga
🍂 Last month, sins and their effects on the human body, mind and soul were talked about by the same speaker. Now it's time to look into the cure to the sins, none other than doing tawbah, repentance.
🎥 Sins - More Than Just A Black Dot - https://youtu.be/ky8X0Kj_2zc
🗣 Muslim Council of Hong Kong wholeheartedly invites you all, men and women, Muslims and non-Muslims, to attend this reflective talk on a topic which ought to make us ponder the state of our sins and our hearts.
👤 Brother Omaru Nimaga is a young, knowledge seeking and humble brother who is a University of Hong Kong graduate, and shows eagerness to help especially the youth and the revert Muslims.
🕋 Prophet Muhammad (peace be upon him) said:
❝Verily, when the servant commits a sin a black spot appears upon his heart.
If he abandons the sin, seeks forgiveness, and repents, then his heart will be polished.
If he returns to the sin, the blackness will be increased until it overcomes his heart.
It is the covering that Allah has mentioned: No, but on their hearts is a covering because of what they have earned." (83:14)❞
[Sunan al-Tirmidhī 3334]
✋ So why not join this class to be in the gathering of the angels and increase your #knowledge about Allah's religion.
📋 Details in shā Allāh:
🔹 Date: 19-04-2018 (Friday)
🔹 Time: 7.45-8.45pm
🔹 Language: English
🔹 Venue: MCHK Centre, 3A, 3rd Floor Chun Wah Commercial Building, 28-30 Minden Avenue, Tsim Sha Tsui (MTR EXIT N1 or P3)
🔸 Talk will be shown live on MCHK Facebook page and uploaded on YouTube channel later in shā Allāh
🔸 Brothers and sisters all welcome for free
🔸 Light refreshments provided
🔸 For more info, please whatsapp brother Adeel on +852 6848 5966 or e-mail info@muslimcouncil.org.hk
Attend | Share | Duas