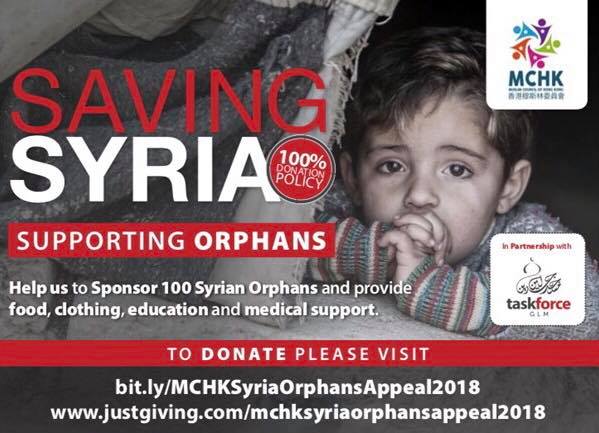 100 Syrian Orphans - 1 Full Year Support Appeal
Muslim Council of Hong Kong
📥 Last year, MCHK undertook this appeal and managed to raise more than £21,000 (HK$220,000) Alhumdulilah. The children need our support this year again, will we respond again in shā Allāh?
🤝 Muslim Council of Hong Kong is once again partnering with Task Force Green Lane Masjid and Human Appeal - UK who are on the grounds supporting Syrian Orphans who are most at risk, but we can't do this alone.

✋️ HELP us to HELP them!

🕋 Prophet Muhammad (peace be upon him) said:

❝'The one who cares for an orphan and myself will be together in Paradise like this,' and he held his two fingers together to illustrate.❞ 

[Sahih al-Bukhari 5659]

👦🏻 Task Force GLM believes that every Syrian orphan deserves a future. As well as providing food, clothing and medical assistance, we aim to give them not only a healthy start in life, but also the opportunity to learn and live in a safe environment in Lebanon away from the constant threat of aerial bombardment and destruction.

💝 We also aim to provide psychological support as the majority of these orphans suffer from post-traumatic stress having experienced more trauma — physical and emotional — than the majority of other children of their age around the world. 

Sponsor an orphan Today for just 82p a day!

🔸 Sponsor an orphan for 6 months - £150 (HK1,500)

🔸 Sponsor an orphan for 1 year - £300 (HK3,000)

🔸 Sponsor two orphans for 1 year - £600 (HK6,000)

💸 So, don't think twice, give some of your wealth for the sake of Allah and know it can be your sadaqa jariyah even after your death. Donate even on behalf of your parents or other loved ones.
🔹

100% DONATION POLICY!


🔹

ZAKAT & SADAQA APPLICABLE!



🤲

 May Allah accept from you all, ease the suffering of the needy and shower His mercy upon the entire Ummah especially our children.